National Clean Air Day

June 5, 2013 marks National Clean Air Day, a day celebrated during middle of Canadian Environment week every year.  In recognition of this day, we are hosting a poster contest for kids aged 5-12 years.  You may also enter our contest to win a bike valued up to $1000.  See more details here.

 

Clean Air Forum 2013

 Regional air quality managers, researchers, health professionals, educators, industries, business, and the public came together at the North Central BC Clean Air Forum on March 6-7 in Prince George, BC. View the event proceedings here.

 

Air Quality Inquiries

If you have a specific concern about air quality or a suggestion on how to improve air quality please complete our  online inquiry form.

 

Prince George VOC Sampling Program

The Ministry of Environment is working in collaboration with city residents to collect ambient air samples within selected neighborhoods and have them analyzed for volatile organic compounds (VOCs). Priority for testing is given to locations where residents have reported high levels of odour causing discomfort.

The results of the sampling will posted to the following website:

www.bcairquality.ca/reports/region_Omineca.html.

 

Need more information on local and provincial air quality including

air quality advisories...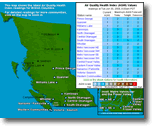 Air Quality Complaints Hotline

Local air quality complaints can be directed to the Ministry of Environment at:

250 565-6135 (during regular office hours) and  (250) 565-6457 (after regular office hours)

 

The City of Prince George now has 'Free Fare for Clean Air'!

To find out more how you can ride for free during air quality advisories
2010 Air Quality Report (New: July 2012)
The Annual Air Quality Report, prepared by the Ministry of Environment for the PGAIR and its joint government and industry Monitoring Working Group (MWG), summarizes the ambient air quality and meteorological information from the Prince George airshed, including trend analysis and comparisons with other BC communities. All operational and maintenance costs of the Prince George ambient air monitoring network are funded by the MWG. Click here to view all Prince George annual air quality information and reports.
P.G. Phase Two Management Actions
Air Quality Index
http://a100.gov.bc.ca/pub/aqiis/air.summary

Recent News
The North Central BC Clean Air Forum will take place in Prince George on March 6-7, 2013 and will bring together air quality managers from throughout the northern interior region, educators, industry, health professionals, and the public.  [Press Release]
The Prince George Air Improvement Rountable Society is holding its Annual General Meeting:
Tuesday, November 20, 2012
6:30 PM - 7:30 PM
City Hall Annex
1100 Patricial Blvd., Prince George, BC
All PGAIR meetings are open to the public. For further information, please contact PGAIR at 250-612-0252 or info@pgairquality.com.
With the upcoming heating season, PGAIR reminds residents to Burn It Clean by burning only dry, seasoned firewood and checking their chimney to ensure that smoke is almost invisible.  Visit BurnItClean.ca to get more helpful tips that will ultimately save money and time by ensuring a clean, efficient burn that provides more heat for your home.
Find us on Facebook!
Help Clean the Air - Be a Volunteer!
The Prince George Air Improvement Roundtable [PGAIR] welcomes volunteers to assist with upcoming projects or programs aimed at improving air quality. If you are interested in volunteering, please
Wood Stove Exchange Program!
Recieve cash rebates for exchanging your
old wood burning appliance to an
EPA certified appliance!
The provincial wood stove exchange program is designed to encourage British Columbians to exchange older, smoky wood burning appliances for low emission appliances (including natural gas, pellet, and EPA-certified clean burning wood stoves or inserts).
Information for the 2012 Wood Stove Exchange Program is available here.
Please contact Tiffany Bonnett for inquiries: 250.612.0252 or tbonnett@pgairquality.com.
Find out how you can get more heat and less smoke with Burnie's tips for clean burning  - check it out!
Prince George Idle Reduction &
Eco-Driving Campaign
PGAIR's Idle-reduction and Eco-driving campaign focuses on raising awareness about unnecessary vehicle idling and its impact on climate change and air quality, as well as the benefits of fuel-efficient driving practices .
Remember – Idling gets you nowhere.  Together we can make Prince George "idle free" and all breathe a little easier.
To learn more about the campaign, the impacts of idling and vehicle emissions, and how you can take action, please click here.
Try out our new 'idling hotspot map' reporting tool... CLICK HERE!